What is an Authorized Representative?
If you want to sell certain products in EU countries which were manufactured outside the EU, you must have an authorized representative in the EU (an EU Rep) to support the import process. This includes helping you understand the requirements of your destination market, reviewing product compliance and labelling, holding your technical documentation and declarations of conformity, and cooperating with authorities on your behalf.
Your authorized representative can be your company's EU branch, if you have one, or you can designate an importer or distributor as your representative. Either way, their focus is to get your products to your destination market quickly and might not be able to prioritize authorized representative tasks. Alternately, you can partner with an experienced and dedicated third-party service that can help you establish your products on the EU market while maintaining manufacturing and labeling compliance long-term. QIMA's rich industry experience and a full team of experts can help.
Authorized Representatives with Compliance Expertise
As a leading service provider in the industry for EU markets, QIMA keeps up with the current state of regulations and can help you keep up, too. According to EU directives, the following types of products must meet specific compliance, labelling and documentation standards and have an authorized representative in the EU.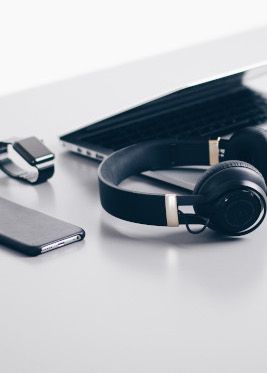 Materials and articles in contact with food
Personal protective equipment (PPE)
Toys
Children's products (e.g., cribs, furniture)
Measuring instruments
Machines
Power tools, handheld tools
Hardgoods (e.g., furniture, sporting equipment, sunglasses, glasses)
E-Mobility (e.g., pedelec, cargo-bikes, scooter)
Ecologically designed energy products
Electrical and electronic equipment, appliances, or products
Products subject to the Electromagnetic Compatibility Directive
Radio telecommunications equipment
Products subject to the Construction Products Regulation (CPR)
E-commerce & Online Marketplace Sellers
For individuals who are using Amazon, eBay or their own online stores to sell in the EU products that are manufactured outside the EU, it is important that they too have an EU Authorized Representative to help them import their goods into the region.
For more information about how QIMA can help e-commerce and online marketplace sellers, download our Quick Guide: Quality and Compliance for Amazon Sellers by clicking here.
Working with your Authorized Representative
QIMA EU authorized representative services are operated by our QIMA Europe entity. QIMA is uniquely positioned as an established industry leader and can deliver rapid, expert responses to you and to requests from authorities. Our Authorized Representative Service will:
Provide an EU contact address for the product, packaging, and documentation.
Confirm that you have completed required assessments, certifications and registrations.
Review your technical documentation to make sure it meets requirements.
Verify that product labeling (CE marking) and traceability references are correct.
Hold technical documentation and declaration of conformity as required.
Work with surveillance authorities on your behalf, providing documentation on request and reporting compliance incidents to you.
Meanwhile, you maintain your responsibilities as a manufacturer under EU regulations. The following steps are required to make the authorized representative arrangement successful:
Provide QIMA with a written mandate that states the tasks and responsibilities that the Authorized Representative is authorized to perform on your behalf.
Agree to release QIMA from any liability and consequential claims and damages related to the product.
Provide technical documentation to QIMA for review and for providing to competent authorities.
Ensure compliance is maintained during production. Notify QIMA of compliance, quality and safety incidents.
Cooperate with requests from QIMA and authorities.
QIMA's EU Authorized Representative Service Process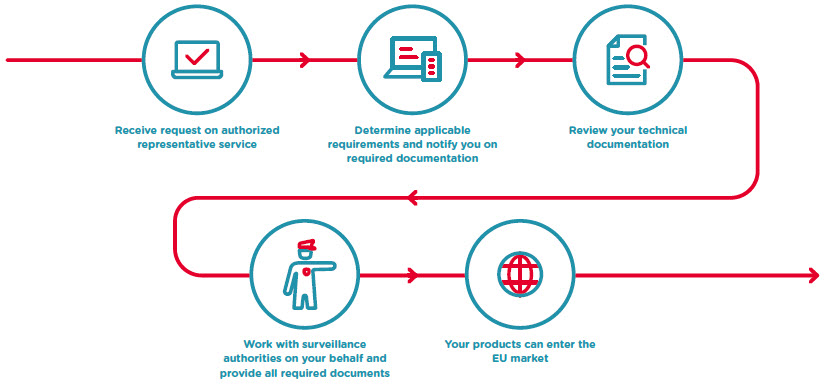 Why QIMA for your Authorized Representative?
The QIMA Benefits
We protect your confidentiality by keeping design and manufacture documentation out of the hands of importers/distributors.

We act in your best interest when decisions may need to go against the interests of an importer/distributor.

We respond to requests from authorities promptly and effectively while distributors and company branch offices may have other priorities.

We offer expertise in quality and compliance across multiple markets, ensuring that you receive quality advice and support throughout the process.
Check other ways QIMA can help you ensure compliance and safety of your products.