Livello di Qualità Accettabile (AQL)
Per l'esecuzione delle ispezioni a campione gli ispettori QIMA impiegano esclusivamente lo standard ISO 2859 e le relative tabelle. Questo documento, pubblicato dalla International Organization for Standardization (ISO), è uno standard internazionale con equivalenti in tutte le normative nazionali (ANSI/ASQC Z1.4, NF06-022, BS 6001, DIN 40080).
Il Campionamento AQL (Acceptable Quality Limit, limite di accettabilità della qualità) è un metodo molto diffuso per definire un campione di ordine di produzione e valutare se l'ordine soddisfa le specifiche del cliente. In base ai dati di campionamento, il cliente può decidere in modo informato se accettare o respingere il lotto. Il report di ispezione dichiarerà chiaramente se la produzione ha superato o meno il livello di tolleranza AQL.
Come faccio a determinare la giusta dimensione del campione e i numeri per l'accettabilità?
I nostri account manager, appositamente formati, saranno disponibili per far sì che tu scelga l'ispezione e l'AQL adatti alle tue esigenze.
AQL Sampling Simulator
Quantity:
Inspection Level:
CRITICAL defects
MAJOR defects
MINOR defects
Select AQL:
Sample Size:
200
units
Accept Point:
0
Reject Point:
0
Select AQL:
Sample Size:
200
units
Accept Point:
10
Reject Point:
11
Select AQL:
Sample Size:
200
units
Accept Point:
14
Reject Point:
15
Table A
Find the respective Lot Size (quantity) and general inspection level: Code letter L
Note: AQL tables below are based on ANSI/ASQ Standard Z1.4 – 2008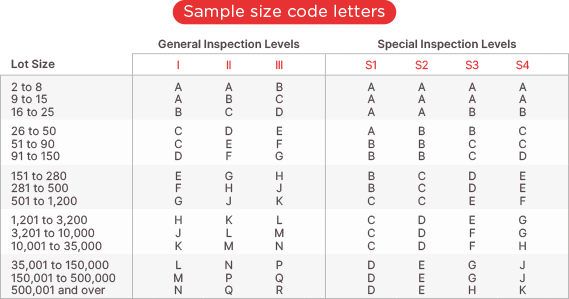 Table B
Locate Row L (this is the required sample size of 200)
Complying with AQL 2.5, no more than 10 units from that sample size can fail the inspection.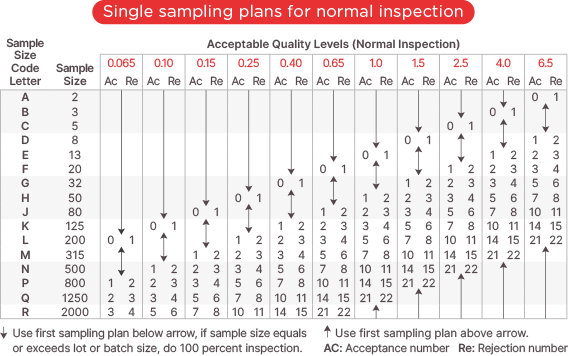 Now, you can go ahead to simulate your next sampling inspection:
Enter your shipment lot quantity
Select General/Special inspection level
Select AQL for all defects (critical, major, minor)
Refer to Table A and B below to see the impact on inspected quantities and accepted defects