QIMA Q4 Barometer: Quality and Sourcing Ethics Take a Hit as US Businesses Accelerate their Retreat from China

Global Supply Chains Push into New Regions
Product quality and sustainability are on the chopping block as US businesses prepare for the next wave of tariffs on imports from China, expected to go into effect December 15.
Last July, in a QIMA survey of global businesses with international supply chains in all major consumer segments, nearly half of all respondents had pessimistic expectations for the outcome of the US-China trade talks. Additionally, over two-thirds indicated that their strategy for weathering new rounds of tariffs would be to step up sourcing diversification and strengthen their presence in the new regions.
Now, with the new rounds of US-China tariffs just around the corner, and the growing trade escalation between the US and the EU, data collected by QIMA during Q3 2019 suggests that the above strategy is well underway, taking a toll on both product quality and sustainability in global supply chains.
Global Sourcing Trends: US Brands' Retreat from China Accelerates and Buyers Look Beyond China's Neighbors to Diversify
QIMA data on inspection and audit demand in Q3 2019 shows an accelerating decrease in US sourcing from China: -17% YoY in the first three quarters of 2019 (vs. -13% YoY in 1H 2019). QIMA data shows that full US-re-shoring remains very small in scale and the majority of business diverted from China is landing in third countries, including near-shoring destinations: Mexico, Peru, Guatemala, Haiti and the rest of Latin America is showing double-digit growth for inspections and audits from US customers.
In addition to near-shoring, US buyers are looking further afield: sourcing regions in North Africa and the Middle East are enjoying an influx of new orders, with inspection and audit demand in Turkey, Egypt and Jordan doubling in 2019 vs. 2018 YTD.
In Europe, the Mediterranean countries are also seeing increased demand from EU buyers, who, while less affected by the US-China trade war, are also seeking to decrease their dependence from China. QIMA data for inspection and audit demand from EU customers shows double-digit expansion in Turkey, Morocco and Tunisia in 2019 vs. 2018 YoY.
China stays strong with business growth from outside of US and EU
Where does this leave China? The sourcing giant is far from idle and compensates US and EU demand decline with other client regions, as interest in China's capacities is growing from businesses based elsewhere in Asia (+58% YoY), the Middle East (+26% YoY) and Latin America (+6% YoY).
Quality Suffers in the Face of Sourcing Shifts
Data gathered by QIMA during on-site inspections during 2019 confirms that the shifting sourcing geographies are having an impact on manufacturing quality. Specifically, Textile and Apparel manufacturers in multiple rising sourcing regions are struggling to cope with the influx of new buyers, with inspection failure rates climbing by +26% YoY in Cambodia, 17% YoY in Jordan, +13% YoY in Sri Lanka and +10% YoY in Vietnam in Q3 2019. Even in a mature textiles market like Turkey, which had previously handled increased volumes better than the rest, a full one-third of textiles inspected in Q3 2019 were found outside of acceptable quality limits (vs. 26% in Q2 2019).
QIMA lab testing results suggest that some of the quality issues with textiles and apparel may originate further up the supply chain. Of the textile and apparel lots tested in Q3 2019, over 14% failed due to various fabric quality issues, particularly colorfastness, resistance to abrasion, and yarn slippage at seams.
Meanwhile, the percentage of products outside of specifications has also been climbing in the E&E sector, historically a good performer on quality. A closer look shows that the timeline of this deterioration in quality matches the increased diversion of E&E sourcing from China to newer geographies, including Thailand, Pakistan, and the Philippines, where between one-third and over half of E&E lots inspected by QIMA so far in 2019 were found outside of acceptable quality limits (compared to 21% in China).
Quality Suffers in the Face of Sourcing Shifts
Both the 2018 and 2019 editions of the annual QIMA survey found that businesses, when dealing with the multiple challenges of shifting sourcing geographies, inevitably rank ethics and sustainability concerns close to the bottom of their priority list. The data gathered by QIMA auditors in the field during Q3 2019 is confirmation of this.
Analysis of the evolution of ethical scores over the past two years shows that after an uneven, but positive dynamic observed in 2018, sustainability performance in 2019 has taken a dip. Coupled with the historical data suggesting that compliance performance tends to slip in the run-up to the holiday season, , this trend signals a very real risk that last year's tentative progress in ethical sourcing may be reversing.
A closer look at the data reveals an uptick in the share of factories ranked "Red" for critical non-compliances. In Q3 2019, QIMA auditors gave a failing grade to almost a quarter of factories audited, with the most common critical non-compliances being related to working hours and wages issues, as well as Health & Safety. Additionally, so far in 2019, critical violations related to child labor remain at a high level, reported at 3.2% of factories audited by QIMA.
While ethical performance has suffered across the board, the deterioration was particularly obvious in the sourcing regions that experienced increased buyer demand. Ethical scores in South and Southeast Asia slipped by -3.5% and -5% in Q3 2019 respectively, compared to 1H 2019.
Meanwhile, China, after a long period of improvement, also recorded a dip in ethical compliance, with scores dropping by -2.4% compared to the average scores of factories audited in 1H 2019. Poor working Hours and Wages compliance was the main driver of this downward trend, tied to the spike in the use of temp labor and poor overtime management during the peak manufacturing season.
QIMA Barometer Key KPIs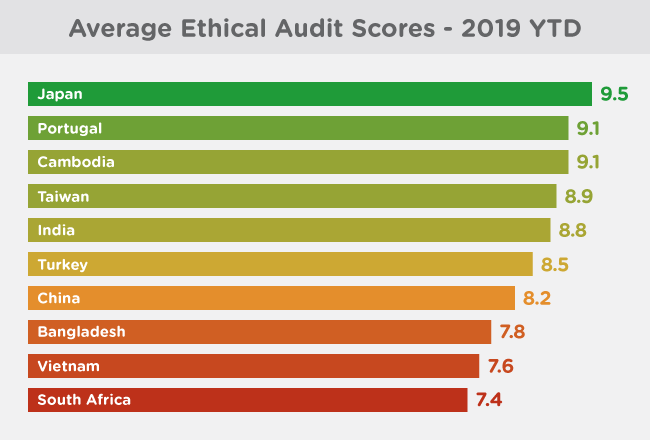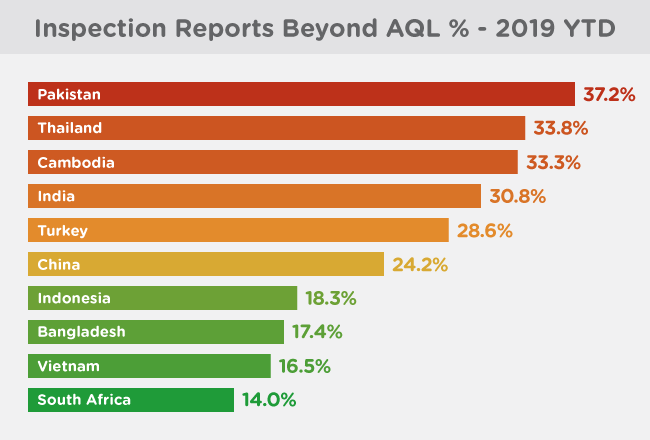 Press Contact
Email: press@qima.com